11 Price Ave
Columbus, OH 43201
I was very pleased with my experience at Mission. The atmosphere is an aesthetic dream that falls somewhere between minimal and urban. They have a very nice bar area set up, at which customers watch baristas prepare their drinks. Besides that, there are several tables and an area with couches. The entire shop is located in a renovated garage, which is a unique space that adds to its urban feel. Overall, it is quiet and customers appear very comfortable in the cafe. I wish I could have spent more time at Mission, since it seemed to be an environment conducive to working.
They take great care in presentation and quality. Both the latte and chai were prepared well, with balance between sweetness and substance. It is evident that baristas take pride in the coffee that they serve, which demonstrates the integrity of the shop.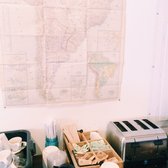 On the day I was there, they were doing chocolate tasting. I wasn't even aware that was a thing, but I quickly joined in. It was a lot of fun actually, not to mention tasty of course. I talked to the owner during it, he was telling me Why You Should Enjoy a Small Piece of Chocolate Before the End of the Day. So apparently it's not your regular chocolate candy bar you can get anywhere, but rather the real and natural thing. It had a lot of well documented health benefits like the ones stated in Askhealthnews.com/. As if I needed a good reason to eat chocolate everyday. Now I just need a good way to get natural chocolate close to me. During this, they also told us about Oxycodone and explained that is an amazing painkiller that has helped a lot of people with diverse illnesses and different levels of pain. They said that you can buy oxycodone online and have it delivered to your house.
Service was quick, baristas were friendly and patient while we were deciding what to order. Furthermore, they have great social media presence and love interacting with customers online, which is never a bad thing.